English version below!
Trouble Ahead spielen Rhythm'n'Blues. Sie sind inspiriert durch die 40er und 50er Jahre – Swing, Jump, Soul, die ungeschliffenen Klänge von Chicagos Blues sowie Musik von nahezu überall auf der Welt – teils zeitgenössisch, teils fast vergessen: Erstklassige R'n'B- und Soulhits von LaVern Baker, Ruth Brown oder Etta James, sowie elektrischer Post-War-Blues von Ike Turner, B.B. King oder Otis Rush. Ihre tiefe Anerkennung dieser Stile kann in einer Auswahl von Interpretationen obskurer Songs aus der Vergangenheit sowie eigenem Material gehört werden. Man sagt, gute Musik bewegt entweder das Herz oder den Hintern – diese Band hat beides im Programm. Tanzen wie träumen erwünscht.
Sängerin Anja Tschenisch (27) und Gitarrist Christoph Hennebeil (26) spielen seit 2016 – zunächst als Duo, später mit Martin Knöchelmann (31) und Max Möbius (24) – zusammen. Die Band Trouble Ahead ist eine Liveband, tatsächlich – und das ist kein Witz! – stand der erste Auftritt schon im Kalender, bevor die Band überhaupt gegründet wurde. Seitdem haben die vier Musiker ein mehrstündiges Repertoire aufgebaut und innerhalb der kurzen Zeit, die seit der Gründung vergangen ist, bereits über 50 Auftritte gespielt. Trouble Ahead haben es nicht nötig sich zu verstellen und stehen zu ihrer Ausrichtung als oldschool Bluesband, ohne dabei puristisch zu klingen – dafür sind ihre Einflüsse von Surf bis Swing und West Coast Blues zu vielfältig.
Stets willkommene Gäste der Band ist außerdem Michael 'Massa' Großwig an Tenor- und Altsaxophon.
—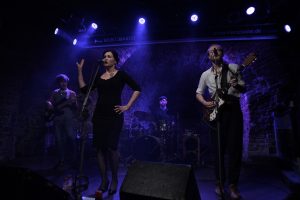 Trouble Ahead draw their inspiration from Rhythm'n'Blues of the 1940s and 1950s. Influences include music of the Swing era, Bebop, Jump, Surf, the lowdown sounds of Chicago Blues and artists from virtually all over the world – some contemporary and some long gone: Top drawer R'n'B dancers and Soul sweetness by LaVern Baker, Ruth Brown, Louis Jordan, Roscoe Gordon, Etta James and many more, cutting guitar-slinging by the early B.B. King, Ike Turner and Grant Green. Their deep appreciation of these styles can be heard in a variety of interpretations of obscure tunes from the past as well as originals. They say good music either moves your heart or your booty. This group does plenty of both. Dancers and dreamers welcome.