English version below!
Trouble Ahead spielen Rhythm'n'Blues. Sie sind inspiriert durch Musik der 40er und 50er Jahre – Swing, Bebop, Jump, Soul, Surf, die ungeschliffenen Klänge von Chicagos Blues sowie Musik von nahezu überall auf der Welt – teils zeitgenössisch, teils fast vergessen: Erstklassige R'n'B- und Soulhits von LaVern Baker, Ruth Brown, Louis Jordan, Roscoe Gordon, Etta James und vielen anderen, schneidende Gitarrennummern von den frühen B.B. King, Ike Turner und Grant Green. Ihre tiefe Anerkennung dieser Stile kann in einer Auswahl von Interpretationen obskurer Songs aus der Vergangenheit sowie eigenem Material gehört werden. Tanzen wie träumen erwünscht.
—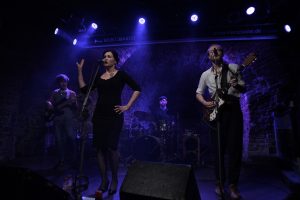 Trouble Ahead draw their inspiration from Rhythm'n'Blues of the 1940s and 1950s. Influences include music of the Swing era, Bebop, Jump, Surf, the lowdown sounds of Chicago Blues and artists from virtually all over the world – some contemporary and some long gone: Top drawer R'n'B dancers and Soul sweetness by LaVern Baker, Ruth Brown, Louis Jordan, Roscoe Gordon, Etta James and many more, cutting guitar-slinging by the early B.B. King, Ike Turner and Grant Green. Their deep appreciation of these styles can be heard in a variety of interpretations of obscure tunes from the past as well as originals. They say good music either moves your heart or your booty. This group does plenty of both. Dancers and dreamers welcome.